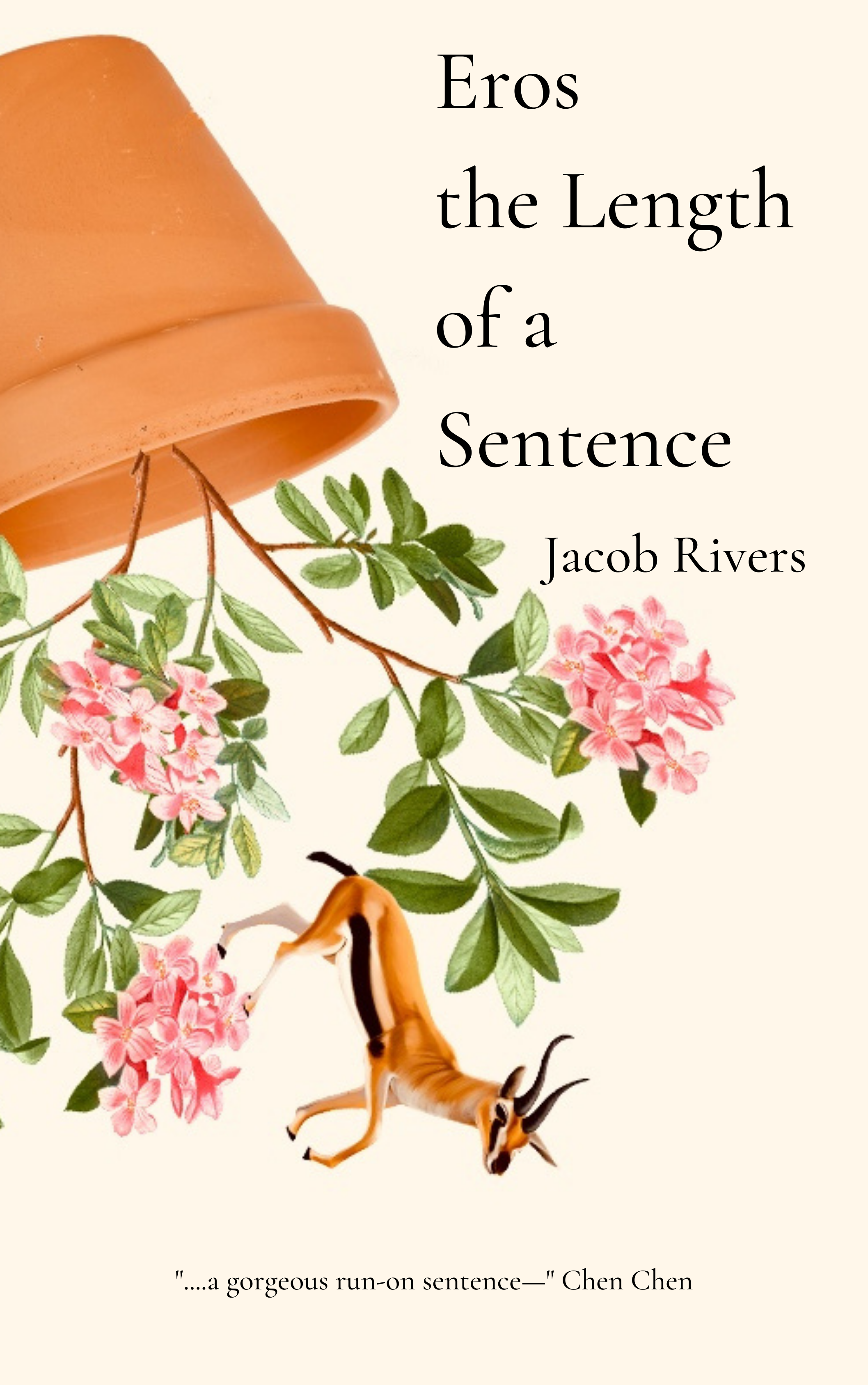 Eros the Length of a Sentence
Ghost City Press, 2020
Purchase
---
Advance Praise
This is a collection that loves with its heart on its sleeve and it's a heart that maybe David Lynch and Björk collaborated on, as a music video prequel or sequel to the saga of Laura Palmer. But as surreal and wonky as these poems get, they are never really about tragedy or solving a small-town mystery that ends up being a cosmic battle against the forces of darkness. Yeah, not so much
that
. Maybe more Björk than Lynch here. A gorgeous run-on sentence of an Eros.
--Chen Chen, Author of
When I Grow Up I Want to Be a List of Further Possibilities
Throughout EROS THE LENGTH OF A SENTENCE, Jacob Rivers's poems give the distinct feeling that each one is doing what Paul Celan described as
making toward something
:: every poem here is a luminous "uploading…into the clouds"—they are suspended in the reach and poised between the romantic analog and its post-analog drift. Even the malaise is tempting; every small moment is worthy of being alchemized into a moment staggered by beauty (either by lens or by language) as the speaker of these poems moves through his days. As Rivers uses both camera and poem to document the slipping moments, we see a young couple building an intimate domestic life tenderly within quarantine, close-quartered by the post-apocalyptic terror and tedium—a testament to what still blooms here, among phone screens and behind windows, surrounded by shadows and reflections and the "harsh noon light." These radiant, searching poems convince me that longing is perhaps the truest form of desire, turning such heat into light until everything around us glows.
--Allison Titus, Author of
The
True Book of Animal Homes